Murree isn't the ideal place to be going for one's honeymoon, which is understandable. Being Pakistan's most popular and talked about vacation spot, the image that this hill station sets for honeymooners isn't exactly an image that any country would want. When one talks about honeymoon plans, going anywhere in Pakistan is simply not acceptable. This, however, shouldn't be the case because Pakistan is home to many beautiful and breathtaking places you will ever come across. Here are 5 amazingly romantic places in Pakistan that can be ideal honeymoon locations.
Shangrila resort Skardu:
Shagrilla has many resorts spread all across the northern areas of Pakistan. This particular one, however, is immensely beautiful. With a manmade lake mirroring the reflection of the majestic, often snow covered mountains, this place is ideal for couples who wish to enjoy the peace and serenity of nature. Stepping outside in its open lawns will give you the chance to pluck fresh fruit from the trees while enjoying the view which will look like something out of a fairytale.
Hunza:
The coulourful terraced fields of Hunza will make you fall in love with it. The small, stone houses and cobbled streets wdd to the beauty of this area. While Aliabad is a good location to spend your time in, considering the fact that it is more developed as a city, Karimabad is a better option considering how close it is to the Baltit Fort. Even better is Eagle's Nest Hotel which may be away from all civilization but is an excellent spot for you to see the entire valley.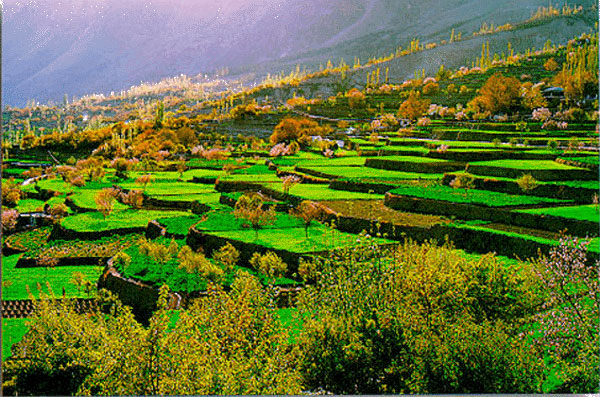 Kel, Azad Kashmir:
It looks like something right out of a romantic movie, with lush green meadows and beautiful streams. You can enjoy the peaceful atmosphere this place has to offer by lying down on the grass and looking at the clear blue sky above. At night, the area becomes an ideal spot for stargazing!
Shogran:
Located 34 kilometres away from the city of Balakot, this tourist spot is yet another place that will leave you amazed at the beauty that the northern areas of Pakistan hold. What's even better about this place is the fact that it doesn't require as much travelling as it does to other areas of Pakistan.
Kalash valley, Chitral:
This valley is one of the most magical and beautiful places that Pakistan has to offer. Everything here, from the local culture to the natural landscape of the valley is magical. Going to this valley will also give you a break from everyday modern civilization.