Saadat Hassan Manto, and his much controversial yet admired and widely read writings, have had a rebirth through Sarmad Sultan Khoosat's biographical-drama film, 'Manto'.
Sarmad Khoosat played the leading role of Manto himself in this two hour long movie. Produced by Baber Javed and directed by Khoosat, Manto was released in cinemas across the country on September 11, 2015 and was immensely praised by film critics and the general audience, who were left spell-bound by Khoosat's mesmerizing personification of Manto. The movie stars many famous faces from the Pakistani drama industry and depicts the life and the short-stories of the great writer.
Manto possessed a unique mindset and he had the ability to observe things from a very different perspective. When it came to depicting social issues through short-stories, Manto certainly had none paralleled. The society accursed him because of the sensitive issues he penned and also frowned at his habits of excessive drinking and smoking. But, in reality, Manto was unveiling the society's real face; a face that was despised and was supposed to remain covered all the times thus, Manto had to face the music.
It would have been a challenge for Khoosat to act like such a man and to show his lifestyle, his circumstances and his thought-process to the whole world. This last portion, depicting Manto's thinking, is an element, I believe, that single-handedly distinguishes the movie from any other biographical film. To view before the world, the ups and downs occurring in any great man's life is something quite ordinary but Khoosat was successful in giving life to a great man's thoughts (and what made those thoughts to occur); the very reason behind his ups and downs.
The film
An immigrant from India, settled in Lahore with his wife, three daughters and mother-in-law; brought under limelight (and prosecution) on numerous occasions because of his vulgar writings; considered a psycho and a taboo on the face of the society, gets sent to the Mental Hospital to be treated but gets discharged after inculcating the thoughts of reasoning among his fellows at the hospital; faces many adversaries, receives threats, gets bribed in many ways; has to cope with his own shortcomings and addictions, the film explains to the audience the many challenges Manto has to overcome.
Toba Tek Singh, Upar Nechay aur Darmiyan, Peshawar say Lahore, Thanda Gosht, Khol Do, License are some of the short-stories which have been made part of the film, involving various actors as characters from Manto's works. Manto is so obsessed with alcohol that, at one instance, he has to purchase medicine for his daughter suffering from typhoid but he buys alcohol off the only money he has and rushes home to avoid getting persecuted at the hands of the authorities for leaving his home whilst a curfew is in effect. His wife, Safiya Manto (characterized by Sania Saeed), discovers the bottle and Manto gets very ashamed of himself. Though he breaks the bottle in anger and curses himself over his addiction, he is unable to wear off his habit of alcohol consumption which slowly deteriorates his health. Qudrat-Ullah Shahab (characterized by Adnan Jaffer), who at that time was a person of significance and authority in Punjab's bureaucracy, offers Manto a 'license' regarding an ice factory where he can work and get his share from the daily sale. Manto realizes that selling ice is a highly unfitting business for a man who possess a mind like his own; he reaches Shahab and throws the license in his face, believing it to be an insult.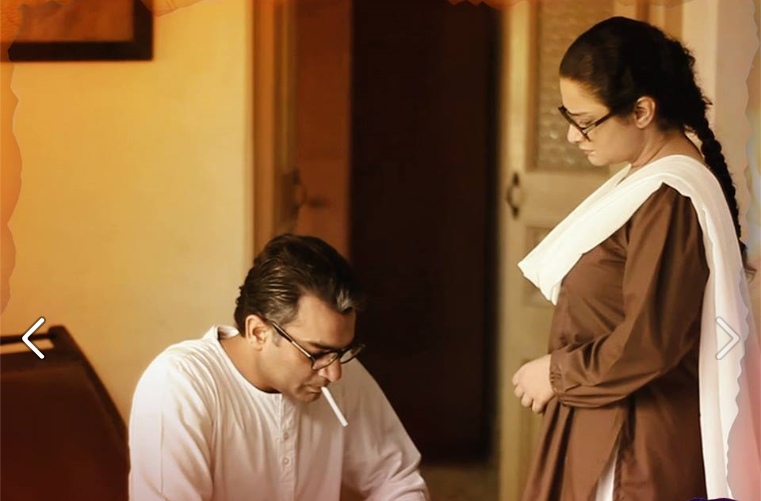 Noor Jehan (characterized by Saba Qamar), the legendary singer, can be seen as one of Manto's biggest admirers through the film. Manto's bad health causes him frequent hallucinations. Quite often, the characters in his short-stories appear to him as living persons in real life and were supposed to be with him throughout his entire lifetime. After his condition worsens, he is admitted to Mayo Hospital Lahore where he becomes subject to intense electric shocks in order to pacify his body (but more importantly, his mind). Manto realizes that he has not long to live. After getting better, he writes short-stories for some publisher who lend him money while his daughter was ill, just as he had promised. Although he ensures his wife that he has quit drinking but he continues doing so while he is all alone in his room. On one similar evening, as he concludes his drinking session, he is left in a terrible shape as he vomits blood and is unable to get control over himself. He loses his senses, spills ink all over the walls of his room and writes "Main Manto" with his fingers along with other inscriptions. There, in the room where he once produced brilliant short-stories and stunned the world; amidst blood, ink and scattered books on the floor, lied Saadat Hassan Manto, lifeless.
Other prominent figures who appeared in the movie, included:
Shamoon Abbasi as Eishar Singh
Yusra Rizvi as Balwant Kaur
Faisal Qureshi as a voice actor on radio
Nimra Bucha as a woman appearing before Manto as his thoughts/writings
Nadia Afghan as Saugandhi
Tipu Sharif as Shaukat Hussain Rizvi
Rehan Sheikh as Mian Sahab
Hina Khawaja Bayat as Mian Sahab's wife
Irfan Khoosat as a character from the story Khol Do
Savera Nadeem as a character from another story
Mahira Khan as a character from the story Peshawar say Lahore
Azfar Rehman as a character from the story Peshawar say Lahore
Final thoughts:
I'm absolutely certain that after watching this film, going through Manto's collection of short-stories will become an irresistible temptation for every viewer. Manto was a diamond in the rough. The Indo-Pak partition of 1947 had left quite an influence over his thinking and the tragedies that occurred after it became a prominent part in his tales. Moreover, the conservative society of his era along with all its restrictions were other factors to consider which shaped Manto's thoughts and his mindset.
Its a must-watch movie. Wonderful dramatization with a splendid concept. Hats-off to Khoosat and the entire Manto team! Keep producing such brilliant stuff for your film industry.
I finish with these very powerful words of Manto about himself:
"Yahan Sa'adat Hassan Manto dafan hai.
Uss kay seenay main fun-e-afsanah nigaari kay saaray asrar-o-ramooz dafan hain.
Woh ab bhi manoon mitti kay neechay soch raha hai kay:
woh bara afsana-nigar hai, ya Khuda?"
...which can roughly be translated as:
"Here lies Saadat Hassan Manto.
Buried in his chest, are all the secrets and mysteries of the art of short-story writing.
Even under heaps and piles of dust, he still ponders:
whether he is a good story writer, or God?"