There are few movie stars more polarizing than Nicolas Cage . From his film debut in "Fast Times at Ridgemont High" at the age of 17 until today, the actor has been in 72 movies, some of which are critically-acclaimed — and some of which are hilariously bad.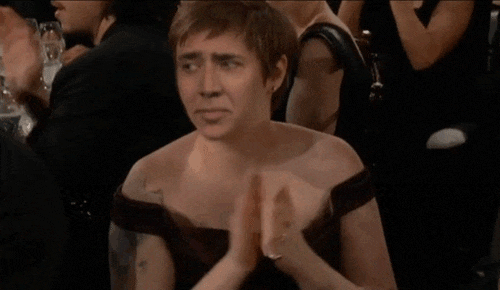 Like "The Matrix" and "The Lake House" actor Keanu Reeves, Cage's career has been a rollercoaster of hits and misses, although many prefer to focus on the latter of the two. Despite choosing what some consider to be questionable roles, the actor was awarded an Oscar in 1996 for his portrayal of Ben Sanderson in "Leaving Las Vegas" and received a nomination for "Adaptation" later in 2003.
The actor definitely isn't one to pigeonhole himself into a certain character type, and this month we'll be able to see him prove this in three different releases: the crime drama "Dog Eat Dog," World War II drama "USS Indianapolis: Men of Courage" and comedy "Army of One." But before indulging in the Nicolas Cage of today, let's take a look at the Cage of yesterday.
PrettyFamous, an entertainment research site by Graphiq, ranked all of Nicolas Cage 's movies from worst to best. His filmography includes anything he's had a role in, whether prominent or small, excluding documentaries and TV movies. To order Cage's films, PrettyFamous ranked them according to their Smart Rating. This is a score out of 100 that takes into account a movie's Rotten Tomatoes' Tomatometer and Audience Score, IMDb rating, Metacritic Metascore, Gracenote rating and its inflation-adjusted U.S. box office gross. In the case of a tie, the movie with the higher inflation-adjusted U.S. box office gross was favored.
10) Left Behind:
An airline pilot (Nicolas Cage) and a journalist (Chad Michael Murray) are among those who must try to make sense of a prophetic event causing millions of people to suddenly vanish.
9) Outcast:
A fugitive Chinese prince and his sister enlist the aid of two war-weary Crusaders (Nicolas Cage, Hayden Christensen) to help them defeat their older brother, who murdered their father and seized the throne.
8) Pay the Ghost:
Haunted by eerie images and unexplainable messages, a man (Nicolas Cage) tries to unravel the mystery behind the disappearance of his son.
7) Deadfall:
A New Yorker (Michael Biehn) heads to California to find the look-alike brother (James Coburn) of his con-man father.
6) Dying of the Light:
Forced into retirement and terminally ill, a CIA agent (Nicolas Cage) gets word that his longtime nemesis (Alexander Karim) has resurfaced, so he sets out on a personal mission to kill him.
5) Birdy:
A Vietnam veteran (Nicolas Cage) helps his bird-obsessed boyhood buddy (Matthew Modine) in a psychiatric hospital.
4) Face/Off:
In order to foil an extortion plot, an FBI agent undergoes a face-transplant surgery and assumes the identity and physical appearance of a ruthless terrorist.
3) Moonstruck:
An Italian-American widow (Cher), engaged to a reticent suitor, falls in love with his brother (Nicolas Cage).
2) Leaving Las Vegas:
Intent on drinking himself to death, a man (Nicolas Cage) who has lost everything finds solace with a Las Vegas hooker (Elisabeth Shue).
1) Adaptation:
A screenwriter (Nicolas Cage) asks his identical twin, who is in the same profession, for advice on a story about a serial killer.