CLEVELAND - Melania Trump brings poise and glamour to billionaire husband Donald Trump's run for the US presidency, but the Slovenian-born former model still has some explaining to do to be accepted as a potential first lady.
She showed stage presence and polish in a prime-time speech to the Republican National Committee Monday, captivating a hall full of cheering delegates.
But the golden opportunity to tell America her story went badly awry after the US media noticed striking similarities with a speech by Michelle Obama to the Democratic convention in 2008.
Her husband swiftly came to her defense, without acknowledging any plagiarism.
"It was truly an honor to introduce my wife, Melania. Her speech and demeanor were absolutely incredible. Very proud!" the billionaire tweeted.
She had used the occasion to take some of the rough edges off her combative husband.
"He's tough when he has to be, but he's also kind and fair and caring," Melania Trump said, describing her husband as "intensely loyal" to family, friends, employees and the country.
"If you want someone to fight for you and your country, I can assure you, he's the guy," she said.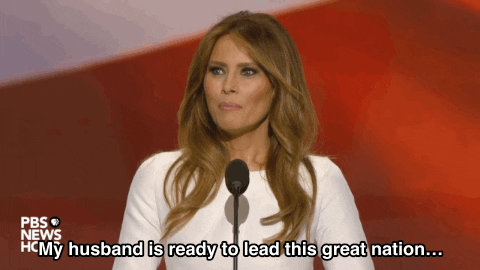 - Glamorous life -
Born Melanija Knavs in Slovenia -- then part of Yugoslavia -- to a fashion-industry mother and a car-salesman father, she studied design and architecture before leaving for Milan and Paris to launch her modelling career.
That brought her to the United States in 1996, where two years later she met Donald Trump. She later became his third wife.
On Monday night, she said becoming a US citizen, in 2006, was "the greatest privilege on planet earth."
Her American experience has certainly been far removed from that of the average immigrant.
Her Twitter account -- inactive since Trump declared his candidacy -- reflects the privileged lifestyle of a jet-setter traveling between a lavish New York apartment and residences in Florida.
She has tweeted photographs from high-society gatherings and major sporting events, as well as recollections of her red-carpet saunters and charity functions. In each image, Melania appears impeccably dressed.
When Donald and Melania married in January 2005 in Florida, the cost of her Dior dress was estimated at $200,000.
Among the invited celebrities was Hillary Clinton, this year's likely Democratic presidential nominee.
Initially, Melania did not seem to be entirely on board with the idea of her husband launching a White House bid.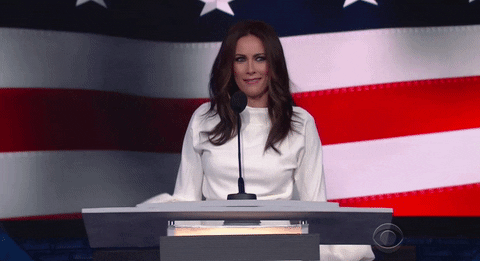 Trump once admitted Melania would have been content as the wife of a billionaire businessman and reality TV star.
"She said, 'We have such a great life. Why do you want to do this?'" Trump told The Washington Post.
She has been largely absent from her husband's presidential campaign, only rarely speaking on the stump.
But she unwittingly found herself in the eye of the primary storm when an anti-Trump political group unveiled a questionable ad on Facebook that used a photo of her lying naked and handcuffed to a briefcase.
The photograph, taken aboard Trump's custom-fitted private jet, was part of a shoot for the magazine GQ in 2000, before the couple married.
The ad, released just before votes in Arizona and Utah, featured the photo with the words: "Meet Melania Trump. Your next first lady. Or, you could support Ted Cruz on Tuesday."