The Wimbledon Centre Court baselines have worn out and the grass is no longer in its beautiful lush green state.
In one of the hottest Championships in history, with the highest temperature ever recorded during the tournament, we've seen it all: upsets, farewells, breakthroughs, drama and then some. But for the four singles' finalists, there's still a lot to play for this weekend.
On paper, the women's final appears to be a complete mismatch. World number one and five-time champion Serena Williams is bidding to complete her second "Serena Slam" (holding all four Grand Slams at once) on Saturday. Standing in the American's way is Spain's 20th-seeded Garbine Muguruza, competing in her first Grand Slam final.
The 6 feet tall, 21-year-old, whose previous best performance at the Grand Slam stage was a quarter-final at Roland Garros, has been the surprise package this tournament. The Venezuelan-born Muguruza has an aggressive game, not typical of most Spaniards, is athletic and technically sound off both flanks. She's clawed her way to the final at the expense of some notable names in the draw, such as fifth-seed Caroline Wozniacki, tenth-seed Angelique Kerber and 2012 finalist Agnieszka Radwanska.
As for Williams, it's been an up and down fortnight. Her biggest scare came in the third round against home favorite Heather Watson when she was trailing 0-3 in the third set and the British player served for the match at 5-4.
What is so remarkable about Serena, and is a testament to her success, is her ability to find her game when the chips are down. She's done it time and time again throughout her career. That's clutch and you can't teach that.
Muguruza will definitely have her hands full in the final but she can take solace from the fact that she's beaten Serena once before at the French Open last year. She has the game to challenge the top-seed, but it's a matter of executing it on the day, which is easier said than done.
Playing the biggest match of her life, nerves will be in effect for the Spaniard. She'll need to stay close to Serena in the opening stages of the match to settle those nerves and to avoid an onslaught from the American.
Another five-set epic?
On the men's side, the top two seeds Novak Djokovic and Roger Federer face off in a repeat of last year's final and if that match gives us any indication, we're in for a long, epic encounter on Sunday. The Serb won that one in five sets after almost 4 hours.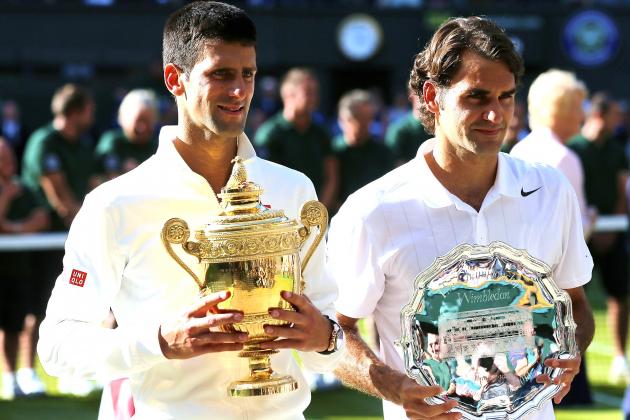 It's been interesting to see Djokovic's progress at this year's Wimbledon. He came into the Championships after a heartbreaking loss to Stanislas Wawrinka at the French Open final and with no warm-up event on grass. He's played nowhere near his best tennis this past fortnight, but has done enough to get the job done and stay in contention for a third Wimbledon title.
In contrast, Federer has had a fairly routine run to his 10th final, aided by a favourable draw. The second-seeded Swiss has played some of his best tennis ever at Wimbledon these past two weeks and that's saying a lot for someone who's won the title a record seven times. He's only dropped one set and got his serve broken once the entire tournament.
Federer comes into the final fresher of the two, having spent 10 hours on court compared to Djokovic's 13, but that should not deter the Serb ironman.
It will be the 40th meeting between the two arch rivals, with Federer leading their head-to-head 20 wins to 19 losses. Djokovic has won their last two matches and has been able to get inside the Swiss maestro's head of late.
With a rivalry that stretches for almost a decade, it's safe to say these guys know each other's games inside out, so there will be no secrets on Sunday.
From Djokovic's standpoint, he'll be relying on a physical baseline duel, controlling the points from the center of the court and outrallying the Swiss. It's a game plan that has worked well for the Serb, especially at last year's final.
For Federer to see success against Djokovic, he'll need to continue with a high percentage of first serves in, like he did against Andy Murray in the semi-final, and stay aggressive, keeping the points short. Anytime the rallies go above 8 or 9 shots, there's only one winner.
Regardless of which way the two finals go and who comes out on top, one thing is for certain, we're in for a real treat this weekend and I'm not just talking about the strawberries and cream.