According to London Police, the fire on a London subway train was caused by the detonation of an improvised explosive device. Police say it was a terrorist incident and is being handled by the Metropolitan Police's counter-terrorism unit.
The London Ambulance Service says 18 people have been taken to hospitals after a fire at a subway station that police are calling a terrorist attack. The ambulance service says none of the injuries is thought to be serious or life-threatening.
Passengers reported an explosion in a carriage of the train shortly after 8 a.m., during the morning rush hour. Several people appeared to have burn injuries.
People suffered facial burns after a white container exploded towards the rear of the train.
According to Metro UK, passengers on a District Line Tube train at Parsons Green had reported panic on the platform after a fire or explosion.
An eyewitness said people were 'really badly burned' adding that 'there hair was coming off'.
Outside the station, a woman was sitting on a pavement with a bandage around her leg while armed police patrolled. A Reuters witness saw a woman being carried off on a stretcher with her legs covered in a foil blanket.
???????? URGENT: London's Met Police have no comment on reports of explosion on tube train, aware of 'incident' at Parsons Green tube station. pic.twitter.com/mM7I3nivSi

— Keith Walker (@KeithWalkerNews) September 15, 2017
According to CNN, London's chief transport operator shut down part of an underground train line Friday morning because of what it says is a "security situation" at Parsons Green Tube station.
London's Metropolitan Police said on Twitter: "We are aware of an incident at Parsons Green tube station. Officers are in attendance."
We have a number of resources on scene at #ParsonsGreen including @LAS_HART. More information will follow https://t.co/TciNtAa8dO pic.twitter.com/ZUWpHz7CTn

— London Ambulance (@Ldn_Ambulance) September 15, 2017
The rear of the train filled with smoke and people were evacuated onto the platform at Parsons Green.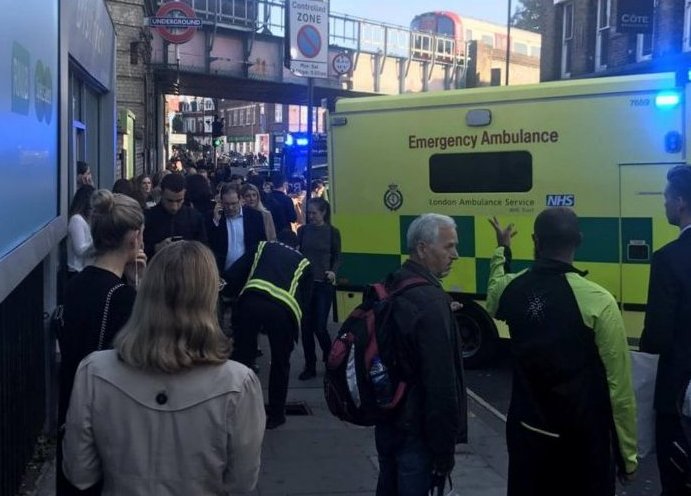 A woman on the train said that her legs hurt. She saw a large flame and heard people saying that a bomb had gone off.
People were running from the train and a woman close to her had ash in her hair.
London Ambulance Service assistant director of operations Natasha Wills said emergency services received calls at about 8.20am local time.
She said the hazardous area response team and ambulance crews had been sent to assist.
An onlooker told The Sun a "fireball flew down a carriage" with panicked commuters diving out an open door.
A woman who was on the tube told 5live said she was into the carriage next to the one where the explosion took place.
"I was in the carriage next to it or the one along as the screaming as it happened it felt really, really loud," she said.
"There was one lady as I came out having a bottle of water tipped over her face and hands. I was on the phone to my mum and she said 'leave the area and go home'. I felt very British I lost my shoe but I went to get it. I'm a bit shaken up."
#parsonsgreen pic.twitter.com/0OUV819EtE

— Sylvain Pennec (@sylvainpennec) September 15, 2017
It is also being reported that people were initially told not to leave the station before an evacuation took place.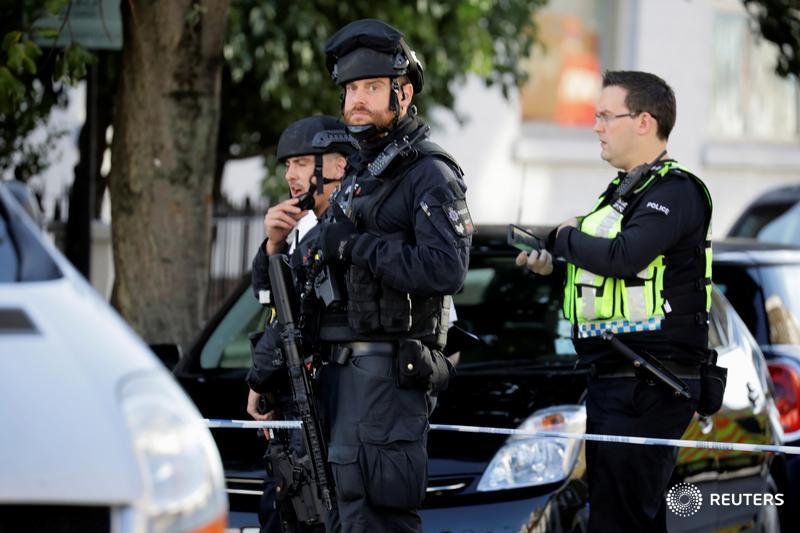 Another witness said that the train had put in a mayday call and the Wimbledon branch was suspended.
BBC London presenter Riz Lateef, who was at Parsons Green on her way in to work, said: "There was panic as people rushed from the train, hearing what appeared to be an explosion"
"People were left with cuts and grazes from trying to flee the scene. There was lots of panic"
BBC News presenter Sophie Raworth says she saw a woman on a stretcher with burns to her face and legs.
Alex Littlefield, 24, a City worker, said: "I was walking around the corner to the Parsons Green Tube station and I saw the raised platform with everyone running and looking upset.
"I saw police officers, fire brigade... masses of people and armed police. There were lots of very, very distressed people. We've been pushed right back now."
Still unclear but very scary - extremely heavy armed police presence now #ParsonsGreen pic.twitter.com/WkodyNsfk0

— Alex Littlefield (@A_Littlefield) September 15, 2017
#ParsonsGreen: Video shared on social media shows smouldering bucket in train carriage https://t.co/juUcuqCn1r pic.twitter.com/VIBVwa5Gwr

September 15, 2017
A TfL spokeswoman told reporters: 'The District Line has been suspended between Earls Court and Wimbledon due to a security alert.
Services are now suspended btn Edgware Rd & Wimbledon while police respond to an incident. Tkt accepted on Buses, South Western & Overground

— TfL Travel Alerts (@TfLTravelAlerts) September 15, 2017
Britain has already suffered four attacks blamed on terrorists so far this year which killed 36 people.
This is a developing story