I remember specially requesting my mother to make this in winter. It's one of those warm comfort foods which took me to my happy place. A hearty meaty sauce blanketing a bed of spaghetti topped off with baked, melting cheese. And what's best? Going to the fridge and warming up seconds in the middle of the night, stealing forkfuls of what used to be leftover in the dish. Ah, happy, guilty pleasures. This is definitely one of my absolute favorites.
This tastes best with beef mince, I wouldn't recommend using chicken. Slow cooked beef mince is what makes the sauce so hearty and rich. If you are using chicken though and ignoring my wise words – make your own stock ensuring that it is rich enough to make up for the lack of depth. Since I used beef, I used store bought stock. I would recommend using a non-stick pan, nay – highly recommend.
INGREDIENTS:
For the sauce:
1 kg Beef mince
8 cloves garlic
6 tbsp oil
2 tsp salt
1 tsp black pepper
1 tsp oregano
4 onions, chopped finely
3 heaped tbsp flour
8 tbsp tomato puree
1/2 tsp zeera/cumin
1 liter chicken stock
2 tsp red chilli flakes
Other Ingredients:
1 packet spaghetti - cooked according to instructions
Grated cheddar for topping (optional - oh but you know you want)
METHOD:
Saute onion and garlic in oil till onion turns pink. Add the minced beef and fry this on high heat for around five minutes stirring in between.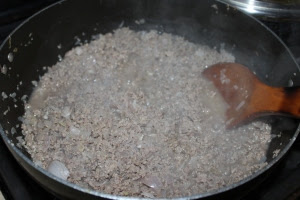 Take the pan off the heat and add the flour; put the pan back on heat and turn this to a medium flame. Stir with wooden spoon until the meat is cooked. Add the seasonings, tomato puree and the stock. Bring the sauce to a boil, scraping the bottom of the pan as you do. Cook for 25 minutes on a low flame till sauce has thickened.
In a large baking dish, pile a layer of cooked spaghetti and blanket this completely with the meat sauce. Pile on some more sauce. Yes, do it! I know you want to.
Top off with some grated cheese and in this goes – to the oven. Bake on moderate heat for 15 minutes until cheese has melted and the sauce has trickled down to meet the pasta.
Caution: This is going to bring out your emotional side, this sauce. It's what it does.
Like I said: You will want to come back for seconds. Oh would you look at that glorious dish.