There's no true love except the love of food. When it comes to Pakistani people, the thing for which they are famous is their love for food. These people can do anything for food. Our country consists of four provinces and each of the provinces has different types of their traditional cuisines, either it's their way of cooking or specifically the spices they use; they are totally different from each other. Each of the provinces has their own specialties in food due to which people love to have this food throughout Pakistan and abroad.
PUNJAB
Tikka/Kebab
Now this is one of those thing without which Punjabis feel incomplete, either it is Chicken Tikka, Beef Tikka, Chicken Kebab, Mutton Kebab, Chicken Boti, Mutton Boti or Champain, Punjabis are ever ready to have one of these. Not only in Punjab but this cuisine is loved throughout Pakistan.
Batair (Quails)
Now this is one of the specialties of Punjabis, you can have it any way you like it either as Pulao or as Barbeque. These are more like tiny chickens, which Punjabis like a lot.
Karahi
One of the all time favourites of Punjabis is Chicken Karahi. If you don't have any idea what you want to cook for the night, this option always works. There's never a no for Chicken Karahi.
Keema
Now this seems more like an all-rounder you can have it any way you like it either with Aloo, Matar or Shimla.
Shami Kebab
This one is more like a snack for most of the people and they really enjoy eating it either with ketchup or with mint chutney.
Gosht
Make Aloo Gosht, Gobbi Gosht, Shaljum Gosht or take any vegetable to add with Gosht to make a mouthwatering meal.
Biryani
Now this the only thing that comes to your mind whenever your mom asks what to cook today? The only answer is BIRYANI! This is one of the all time favourites and people love to have it throughout Pakistan.
Halwa Puri
This is the typical nashta whiich punjabis love to have on Sundays or any other day of the week. Puris are served along Channay, Halwa and Achaar and you can have it any day you want to.
Khichri
The only support system whenever your stomach is upset, you can have this mixture of daal and rice along dahi to feel a little better.
Sarson ka Saag
The never ending combination of Sarson ka Saag and Makai ki roti along with a piece of butter. Unfortunately, it's only prepared during winter season due to availability.
Paratha/Naan/Roti
There are several kinds of chapati/roti and people have come up with different variations of Naan and Paratha. Most loved flavours are: Nutella Naan, Cheese Naan, Zeera Naan, Kalwanji Naan, Aloo ka Paratha, Mooli ka Paratha, Balon wala Paratha, Meetha Paratha, Besan ki roti, Khameri roti, Normal roti.
Daal Chawal
The best and effortless meal on this earth.
SINDH
Sai Bhaji Chawal
Not many people throughout Pakistan know a lot about this dish because this is one of the specialties of Sindhis. It is comprised of a portion of white steamed rice served along spinach curry.
Seviyan (Vermicelli)
You can have it either on its own or as sheer khurma, it really very sweet and is also one of the specialties of Sindhi cuisine. Many of us have it on Eid after our Eid prayers.
Mitho Lolo
This is also normal flat bread but this time it's a sweet one. This is usually served with Lassi, you can enjoy it in hot summer days.
Sindhi Biryani
Again this is the first opinion of everyone when we discuss about what we shall have for food today, now in this case there's a slight change this sindhi biryani has a lot of aloos in it which sindhis love to eat. All day everyday there's never a NO to Biryani.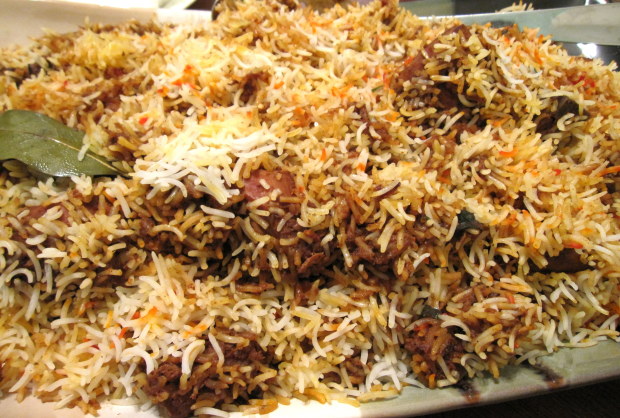 Pallo Machi
Pallo Machi is the Hilsha fish cooked in Sindhi style, this is considered as a delicacy throughout Sindh. These Sindhi people usually garnish it with their traditional spices and deep fry it. Whereas in different areas of Sindh people cook it in various ways such as barbeque or cook it with onions and potates etc.
Taryal Patata
If you like potatoes, then this is your thing this is the sindhi version of aloo ki bhujia. These are thin sliced potatoes which are cooked in the traditional spices and are enjoyed with roti.
Koki
Koki is a form of flat bread made in Sindh. People usually like to have it as a paratha with a lil dip of some sort here and there or just on it's on.
Thadal
Now this is white sweet drink made up of almonds and khashkhaash, typical sindhi mother usually offer this to their kids in summers.
BALOCHISTAN
Sajji
Sajji is the native and most famous dish of Balochistan.It is made up of a whole chicken in skewers (fat and meat intact), marinated only in salt, then roasted over coals. The roasting time takes many hours but it's worth the wait as it comes out along with that special rice which people would love to have.
Khaadi Kebab
In regard of this cuisine the whole lamb or goat is barbecued, not only this but there's a treat for people inside it; the stomach of the goat is filled with rice and the whole lamb or goat is cooked in its own fats.
Dumpukht
This dish usually takes a lot of preparation time as the meat is cooked in its own fats slowly in an oven; the meat is enclosed to give it a DUM so that it is completely cooked.
Kaak
These are round bangle shaped bread covered in sesame seed, which you can enjoy having with tea or kahwa.
Lahandi
It's our own type of bacon, in Balochistan the meat of sheeps is specially flattened and dried so that this meat can be consumed in winters. After all of this hard work now this meat is suitable to make lahandi.
KPK
Chapli Kebab
These Chapli Kebabs are made from beef or chicken mince, onions, tomatoes, green chilies, coriander seeds, cumin seeds, etc. These are a type of patty for those people who don't know about these and are almost the size of your hand. These tempting chapli kebabs are the speciality of Peshawar.
Kabuli Pulao
This Pulao is a Specialty of the Peshawari people which they would always offer you whenever you visit Peshawar. This Pulao is usually made with lamb and consists of steamed rice but because it's mixed with raisins and carrots giving it a sugary taste it might not crave everyone.
Kahwa
This is a traditional type of green tea, which most of the people like to enjoy in summers along with gur, dates, dry fruit etc.
Dumba/ Lamb Karahi
The people of KPK love to have this lamb Karahi, this is mostly made up of salts and is one of the delicacies of KPK.
Mantu/ Mamtu
These are small meatballs covered with yoghurt like white sauce, these meatball usually melt in your mouth.
Naan (Doday)
Doday is the name for Naans in Pahto, these pakhtun people usually have these type of naans which are different from the typical ones. These are mostly ovals and they come in different shapes and sizes consisting of differen designs.
Bonjan
This is a tangy eggplant curry, cooked in tomatoes and onions with oil. This is totally different from the way they are cooked in Punjab
Dumba/ Lamb Tikka
Now again for the sake of love of lamb, the people of KPK put on meat of lamb on skewers to make juicy and tender tikkas and kebabs of it.