If you're a girl in her twenties or late teens, it's more than likely that you've experienced the curse of the rishta aunties. We know this curse too well, especially if your mother is good friends with the aunty and she visits often. With the arrival of festivals like Eid, also come the arrival of many relatives and friends. Some of them, we love to meet; others not so much. One of the later species is the rishta aunty, who arrives at your place with so many love- filled jhappis only to leave guaranteed lipstick stains on your cheeks.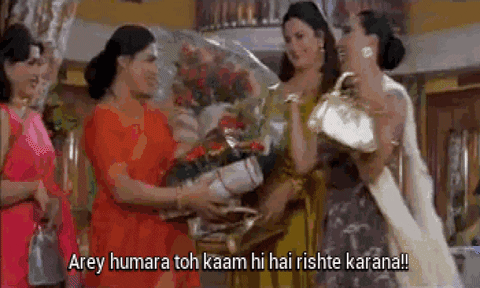 Born and raised in a shareef, 'rakh rakhao' inducing environment, I was also subjected to this brutal torture and that too, on this Eid. However I decided to make it a fun experience and do what I do best: piss the rishta aunty off. To the average aunty's disappointment, I've always been a violator of the Terms and Conditions of Khandani Rakh Rakhao Pact, blurting out my outrageous and #Haram opinions on the dinner table and presenting the feminist theory instead of a nice warm gol roti.
The rishta aunty is apparently here to share the joys of Eid with us but in reality we all know they are here to interview my parents "What is your daughter studying?" "Oh what can she cook?" "Is this house yours?" "How much does your son earn?" "You know…she's of marriageable age now" "She wants a career does she…don't worry, she will settle once they get married."
She always manages to annoy me by her misogynistic and conventional views, but this time here's how I turned the tables. I was first informed that rishta aunty, subject 001 was approaching our home in 15 minutes. Battle stations, ready! My mission was to piss off the women who claimed to find the man of my dreams.
I'd decided to do it a little differently this year and miraculously convinced my mother to let me wear a skirt, read: western dressing, on Eid. That was my first blow. With a billion dollar smile on my face, and a loud lipstick color I greeted the subject as she entered my home. The odds were in my favor. She was too surprised to say anything for a moment and then the creamy buttery praise began. "Oh you look very pretty, my dear." Soon came the subject's anticipated attack "You know, you look good but umm… western dressing on an eastern festival? Mmmhhhmm…" Disapproving shots fired, I had won the first round: the first impression.
Mothers and rishta aunties are two people we hold in completely different places but sometimes their turn offs are common. I had to take care not to accidentally summon the wrath of mother dear so I carefully served cold drinks, chilled with three ice cubes each; no more and no less.
Round 2: Draw skulls and snakes into your Mehndi
The discussion inevitably shifts to the topic of Mehndi. How we all went out and went through hours of idle suffering just to get pretty Mehndi designs on our hands for incredible amounts of money and return home exhausted at 3 AM. What a fun night it was. "Oh the red color on your Bahoo's hands is beautiful. She must have a great mother-in-law! Hahaha *wink wink nudge nudge*" I observed how the subject smoothly applied layers of butter and ghee on my mother. So that's how much TV ads during Ramzan influence the viewers. "Beta aap ne nahi lagayi?" "Oh no aunty, I don't need Mehndi to catch you red handed. " "What?" "Hahaha oh nothing"
I showed her the dark mark from Harry Potter that's worn by Voldemort's followers on my arm. Of course to her, it was a horrifying sight of snakes and skulls. Her jaw dropped and she looked at me, terrified like she'd seen a ghost. My lovely mother broke the silence and asked me to check on the tea. "Sure, mom." I said cherishing the look of utter disbelief and horror on the subject's face, which amuses me even today.
"Oh no, please you don't have to." Said the aunty, refusing the offer for tea and gathering her things but I'd already brought the trolley full of treats. Now she had to stay. You know, because she's khandani.
Round 3: "So, what do you study?"
"Aunty, (never miss a chance to say that) I'm doing bachelors from FCC."
"Oh, that's very nice. So is it a BSc. Or a B.A.? How many years left? Will you do a job after that?"
The subject is winning round 3. I must do something quick.
"Aunty! You haven't tried these aloo chanas, please take some."
"Why not, did you make them? What else did you cook here?"
Yes. We're back on track. "Nothing really. Ami does all the cooking. I just sit around reading books and writing blogs."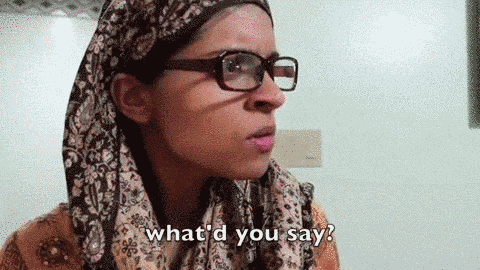 The target has been struck! "I know how you girls are these days, with all the studying and careers but you know…the only way to a man's heart is food. We all loved your mom when she came into this family, she has such good taste in her hands!"
"Yes aunty, I love food too! I'll make sure to find a good cook before I get married."
The girl doesn't listen? She tries it on the mother. "You know bhabi, you should teach her some cooking, she's of marriageable age now, so you know, we have to start looking."
"Arey abhi kahan, she wants to finish her studies first" goes on the age old conversation.
The most satisfactory thing about all this was that I can actually cook most Pakistani dishes and regularly help around the house too. But I never said I couldn't right?
Now her visit was coming to an end, and I had mixed feelings; this amusing charade would soon end. The subject was of course asked to stay for lunch. Oh how I wish she could've seen my perfect roti shaped like the map of Czechoslovakia, but she politely excused herself, saying she had other relatives to visit. My heart goes out to all the girls in those families, we're in this together.
So that is how I freaked out the subject 001 aka rishta aunty and now she definitely thinks I'm too weird for any of her or her friends' sons or bhatijas or bhanjas. Mission Accomplished.
What happened afterwards with my mom? Well let's not talk about that right now eh?