Several prominent personalities including politicians, cricketers and actors cast their vote in Pakistan's 11th general election on Wednesday.
Former Punjab Chief Minister Shahbaz Sharif was among the first people to cast his vote. He voted in NA-130 constituency of Lahore where Pakistan Muslim League-Nawaz's (PML-N) Khawaja Hassan and Pakistan Tehreek-i-Insaf'S (PTI) Shafqat Mehmood are in the tough contest.
Former prime minister Nawaz Sharif and Shahbaz Sharif's mother Shamim Akhtar cast her vote in NA-124 in Lahore where Hamza Shahbaz was contesting.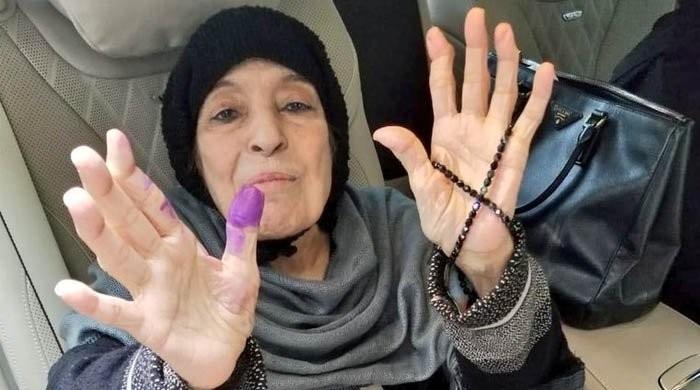 PTI chief Imran Khan cast his vote in NA-53 Islamabad. Speaking to media, he urged the nation to utilize their right to vote as it is a chance to defeat the mafia groups. "I do not ask you to vote only for PTI. Vote whichever party you want, but do vote," he stressed. Khan termed the election as an important one in the history of Pakistan.
Former Army Chief Gen (r) Raheel Sharif casts his vote in NA-129 while the present COAS Gen Qamar Javed Bajwa voted in Rawalpindi constituency PP-11.
Pakistan Peoples Party (PPP) chairman Bilawal Bhutto Zardari voted in Larkana's NA-200 constituency. In media talk, he hoped that the nation will vote with full strength.
Former cricketer Waseem Akram cast his vote in Samanabad area of Lahore. On his Twitter account, he wrote "I casted my vote today really proud to be Pakistani"
I casted my vote today really proud to be Pakistani . pic.twitter.com/Emzgul9CKQ

— Wasim Akram (@wasimakramlive) July 25, 2018
Shoaib Akhtar known as 'Pindi Express' also cast his vote and asked for people to come out and vote for Pakistan.
Done my bit ..MAY GOD pick the best person to lead our country ..

But hats off to my nation they came out in huge no specially women

More power to you guys .. pic.twitter.com/zO8CazL6q3

— Shoaib Akhtar (@shoaib100mph) July 25, 2018
Former Pakistan women team captain Sana Mir cast her vote. Inspiring all the youngsters to vote and back your words with actions, she wrote on her Twitter account.
Voting Done. Exercise your voting rights to back your words with actions. #PakistanZindabad #PakistanElection2018 pic.twitter.com/wSEowAII47

— Sana Mir (@mir_sana05) July 25, 2018
Famous TV, film actor Hamza Ali Abbasi encourgesd Pakistanis to get out and 'vote for Pakistan'
#ElectionPakistan2018 PLEASE GET OUT NOW AND VOTE!!!!!!!!! pic.twitter.com/68mQhadi5R

— Hamza Ali Abbasi (@iamhamzaabbasi) July 25, 2018
Mawra Hocane cast her vote in her hometown Islamabad. It was beautiful trip to my hometown and hope to even more a beautiful future, she wrote.