His date of birth is disputed
Most of the historical texts point to December 25, 1876 as the date on which Muhammad Ali Jinnah was born. However, some historians claim that Jinnah's original date of birth was October 20, 1875, which the Quaid later changed to December 25.
Mahomedali Jinnahbhai was his birth name
Before he was Muhammad Ali Jinnah, the Quaid was known as Mahomedali Jinnahbhai. He, however, dropped the word "Bhai" from his name in 1894. He also changed his spelling when he went to England for higher studies.
He once embarked on a stage career
The Founder of Pakistan was an excellent lawyer with a charismatic personality. Jinnah, at one point in time, seriously considered quitting barristership for acting. He even embarked on a stage career with a Shakespearian company in London, but that was short lived.
Jinnah's first marriage lasted only a few weeks
Jinnah's first wife, Emibai Jinnah, was from his ancestral village of Paneli. She was two years younger than him. Jinnah did not want to marry Emibai but bowed down to his mother's wishes. Mithibai Jinnah feared that her son would marry an English woman. Emibai died while Jinnah was in England for higher studies.
He was the youngest Indian to pass law examination
Muhammad Ali Jinnah, in 1896, became the youngest Indian to pass law examination in England. At a remarkable age of 20 Jinnah was the only Muslim Barrister in the city of Bombay. He would later go on to become of the most successful lawyers of his time and the rest his history.
A road in Turkey is named after the Quaid-e-Azam
Ankara, the capital of Turkey, has a street named after him. Cinnah Caddesi is one of the longest streets of Ankara. "Jinnah" is spelled "Cinnah" in the Turkish language.
The Jinnah Cap has its own significance
In different portraits, Jinnah is often seen sporting a sherwani and a Qaraquli cap (now known as the Jinnah Cap). This particular outfit, wore by Jinnah in 1937 during a session of All-India Muslim League in Lucknow, was meant to signify his commitment to Allama Mohammad Iqbal's dream of a separate nation for Muslims of British India.
He never wore the same tie twice
Jinnah was a classy gentleman and he never wore the same tie twice. Even on his deathbed he insisted to be formally dressed saying: "I will not travel in my pajamas."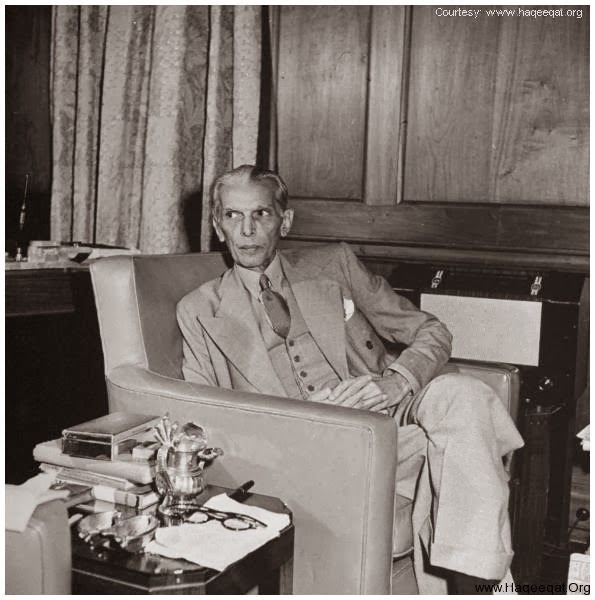 His political decisions were as precise as his billiard shots
One of the most prolific and controversial writers of British India, Saadat Hasan Manto wrote in his book, Jinnah Sahib: "As in billiards, he would examine the situation from every angle and only move when he was sure he would get it right the first time."
Fixed his salary at Rs1/month
Jinnah was one of the most expensive and most sought after lawyers of his time, earning around Rs1,500 per case. The Founder of Pakistan, however, fixed his salary at Rs1 per month as the Governor General of Pakistan. The reason being, he didn't want to indebt the nascent state with financial burden.