ISPR has confirmed that arrested Indian agent has been sentenced to death. In a tweet, DG ISPR Major General Asif Ghafoor announced the verdict.
Indian R&AW agent #Kalbushan awarded death sentence through FGCM by Pakistan Army for espionage and sabotage activities against Pakistan. pic.twitter.com/ltRPbfO30V

— Maj Gen Asif Ghafoor (@OfficialDGISPR) April 10, 2017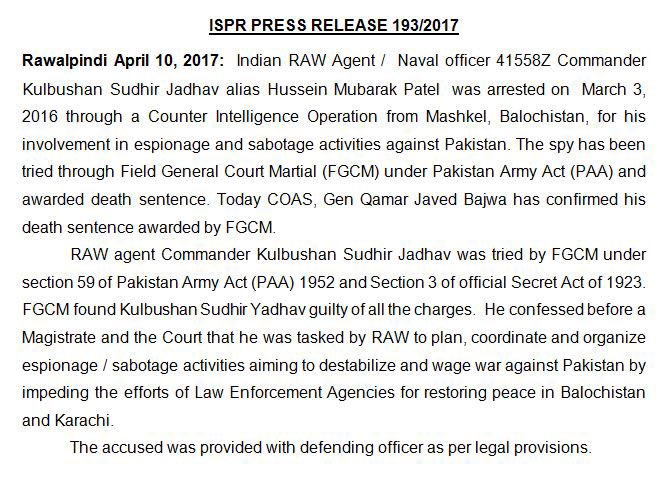 In a press release ISPR stated that Indian RAW agent and Naval officer Kulbhushan Sudhir Jadhav alias Hussein Mubarak Patel has been awarded death sentence.
"Jhadave was arrested on March 3, through Counter Intelligence Operation in Mashkel, Balochistan," the statement read.
"The spy has been sentenced due to his involvement in espionage and sabotage activities against Pakistan and was tried through laws of Field General Court Martial (FGCM) under Pakistan Army Act (PAA).
"He confessed in front of a Magistrate and Court that he was tasked by RAW to plan, coordinate and execute activities to destabilize and sabotage stability in Pakistan," the ISPR statement further read.
While talking to Waqt News, The Nation Editor-in-Chief Salim Bokhari said justice has been served.
"This is apt punishment for any spy involved in anti-Pakistan activities," Bokhari said.
Meanwhile defence analyst Talat Masood said that the right has been taken, but it will have political repercussions.
"Modi government will react strongly and Pakistan government should be ready to face it," he said.
Defence analyst Farooq Hameed agreed that India will retaliate, especially at the Line of Control.
"This is a very strong message by Pakistan to India and international community that if any one tries to intervene in Pakistan, he will be dealt with firmly," he said.
Hameed further added that Pakistani Armed Forces have to remain vigilant on the border.
Yadav was arrested on March 3, 2016 through a Counter Intelligence Operation from Mashkel, Balochistan.
He confessed before a Magistrate and the Court that he was tasked by RAW to plan, coordinate and organize sabotage activities aiming to destabilize and wage war against Pakistan by impeding the efforts of Law Enforcement Agencies for restoring peace in Balochistan and Karachi.
The accused was provided with defending officer as per legal provisions.