Academy Award Winner Sharmeen Obaid Chinoy is all prepared to co-chair the 47th World Economic Forum Annual Meeting which is to be held on 17 – 20 January 2017 in Davos-Klosters, Switzerland, under the subject "Responsive and Responsible Leadership".
The meeting will comprise of more than 2,500 contestants from about 100 different countries to participate in over 300 sessions. A recipient of the World Economic Forum 'Crystal Award' and part of the Young Global Leaders community, Sharmeen is the first artist ever to Co-Chair to prestigious forum's annual meeting.
Recognized since 1971, The World Economic Forum is dedicated to recover the state of the world. The World Economic Forum Annual Meeting in Davos-Klosters remains the leading creative force for involving the world's top leaders in collaborative activities to form the global, regional and industry plans at the beginning of each year.
This year, The World Economic Forum Annual Meeting will concentrate on five different challenges facing the word in 2017: a breakdown in global collaboration; loss of identity; slow economic growth; a crisis in capitalism and preparing for the oncoming Fourth Industrial Revolution.
Together with Obaid-Chinoy, overtaking the discussion at the Annual Meeting 2017 will be Co-Chairs will be Brian T. Moynihan of Bank of America, Helle Thorning-Schmidt of Save the Children International, Frans van Houten of Royal Philips and Meg Whitman of Hewlett Packard Enterprise.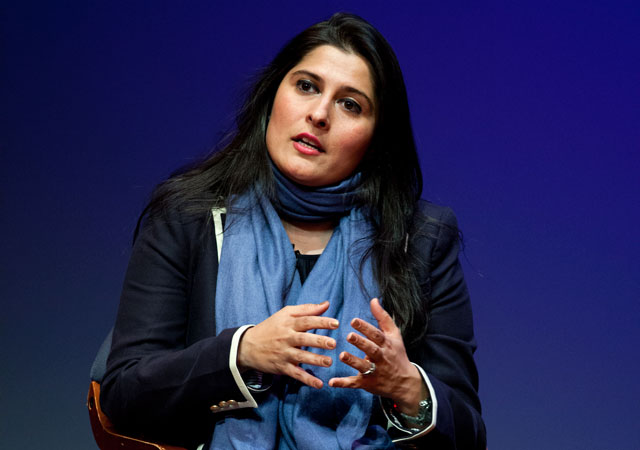 On being the first artist and Pakistani to Co-Chair, Sharmeen Obaid-Chinoy says, "It is a great honour to be the first artist ever to be given the opportunity to co-chair the prestigious World Economic Forum at Davos in 2017. I have always believed that the true mark of any thriving society is the amount of investment made in its cultural and artistic infrastructure. There is, now, an increasing recognition of the fact that business and economics must go hand-in-hand with culture and arts for society to move forward and it is with great pride that I will be representing both the art community and my country, Pakistan!"
"Our world continues to become increasingly interdependent, even as political events signal a desire for isolation and a retreat from globalization. To address both of these profound forces, we must strive for better global governance systems that provide everyone with a voice," said Klaus Schwab, Founder and Executive Chairman, World Economic Forum.
The World Economic Forum will also be glorifying the 23rd Annual Crystal Award winners during the opening session of the Annual Meeting 201 on 16 January; violinist Anne-Sophie Mutter, musician Shakira and artist and social activist Forest Whitaker will be honoured with the 2017 Crystal Awards in recognition of their leadership as artists to improving the state of the world.