At least 52 people were killed and over 100 injured in a blast at Shah Noorani shrine in Balochistan.
The blast occurred when believers mobbed the famous sufi site in Balochistan. Rescue teams have reached the blast site and started shifting the deceased and injured to the hospital.
The target of the attack was an area where believers would perform dhamal – a Sufi ritual. More than 500 people were present in the shrine at the time of the blast.
"Every day, around sunset, there is a dhamaal (ritual dance) here, and there are large numbers of people who come for this," shrine's custodian Nawaz Ali told Reuters.
Shrine's Khlifa (caretaker) Nawaz Ali said usually 1,000 to 1,500 people visit the shrine on Saturdays to witness dhamal and pay respects to the saint. Hashim Ghalzai, a local district commissioner, said the toll could rise further.
The Pakistan Fisherfolk Forum (PFF) spokesman said a huge number of women, children and men from Ibrahim Haidry area were attending the Dhamaal at the shrine and they were all out of contact.
Balochistan Home Minister Sarfaraz Bugti confirmed the blast and said that the government has expedited the rescue operations. "People who are critically injured in the blast will be transported to Karachi," the minister said.
According to police sources, it was a suicide attack carried out by a 14-year-old boy.
In a statement released by its news agency, the Islamic State group claimed responsibility saying "thirty-five visitors of the Shia shrine were killed and 95 injured in a martyrdom attack by Islamic State fighters targeting the shrine in Baluchistan in Pakistan."
A paramilitary soldier stands guard next to an injured blast victim awaiting treatment in an ambulance at a hospital in the Hub district (AFP)
Volunteers move an injured blast victim from an ambulance at a hospital in the Hub district, some 40 kilometers from Karachi (AFP)
Rescue teams and law enforcers are facing difficulty in reaching the site as the Dargah Shah Noorani is located in a remote area which is 100 km (62 miles) north of the port of Karachi. There are no communication services available in the area. Electricity services were also disrupted following the explosion, hampering rescue efforts further.
Sindh government had dispatched 50 ambulances and medical workers from Karachi, a three-hour drive on patchy roads from the blast site.
Balochistan government dispatched 25 ambulances from Hub to the shrine, said Home Secretary Akbar Harifal. Medical aid team were also sent from Lasbela to the area.
Balochistan Chief Minister Nawab Sanaullah Khan directed Kalat commissioner and other authorities concerned to materialise all available resources for speedy rescue operation.
"There are no helicopters available with the provincial government to evacuate the injured," confirmed the spokesperson for the Balochistan government.
The injured would be shifted to hospitals in Lasbela, Khuzdar or Civil Hospital in Karachi as there are no medical facilities available in this mountainous area.
Authorities have dispatched ambulances and medical workers to the site of the blast from Karachi, a three-hour drive away (AFP)
Two cyclists ride past a wall image of late Sufi musician Amjad Sabri, who some observers say was assassinated because he was a high-profile Sufi, in Karachi on June 27, 2016 (AFP)
The death toll is feared to rise with women and children casualties in the deadly blast.
Expressing grief over the loss of innocent lives, Prime Minister Nawaz Sharif condemned the attack and directed the concerned authorities to bring the perpetrators to the task immediately.
He also ordered speedy rescue services to save the lives of those injured in the attack.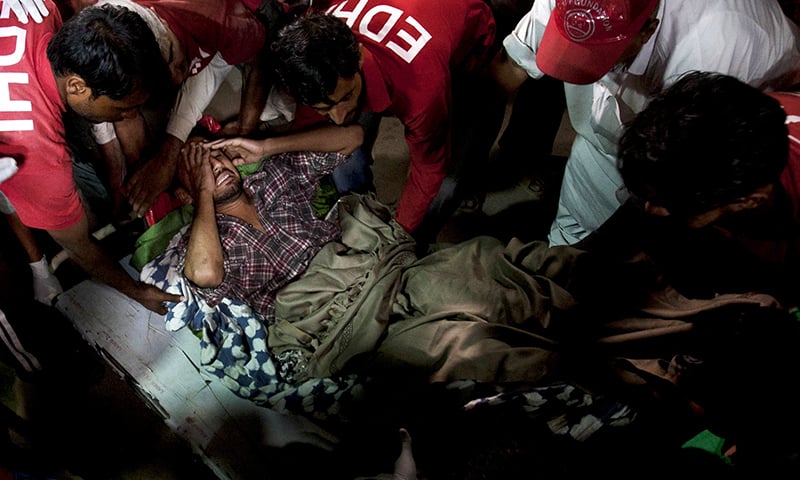 Rescue workers and volunteers unload an injured victim of bomb blast (AP)
A man carries a boy injured after a bomb blast at a hospital in the Hub district (AFP)
Chief of Army Staff (COAS) General Raheel Sharif ordered instant aid and maximum assistance for blast victims, a statement issued by the Inter-Services Public Relations (ISPR) said the COAS also directed for the on spot medical treatment of injured.
Troops and medical teams have been dispatched to the blast site, the statement added.
Shah Noorani Shrine Blast:COAS orders max assistance for evac &on spot med treatment of injured.Troops&med teams reaching frm Kci/Khuzdar-1

— Gen Asim Bajwa (@AsimBajwaISPR) November 12, 2016
Shah Noorani Blast:Due difficult terrain/long distance,more time taken to reach.2 Med teams,50 soldiers&20 ambulances about to reach-2

— Gen Asim Bajwa (@AsimBajwaISPR) November 12, 2016
Shah Noorani Blast:Another 100 sldrs,4 med teams &45 ambulances also on their way.Sind Rangers ambulances&doctors also on their way-3

— Gen Asim Bajwa (@AsimBajwaISPR) November 12, 2016
Shah Noorani Blast:Evacuation through aircraft not possible since no landing strip in area. Night Heli evacuation will be attempted-4

— Gen Asim Bajwa (@AsimBajwaISPR) November 12, 2016
Shah Noorani:50 sldrs with 2 med teams arrived on site.Will treat&evacuate injured.2 heli airborne frm Qta,long flight,will attempt ldng-5

— Gen Asim Bajwa (@AsimBajwaISPR) November 12, 2016
Pakistan Tehreek-e-Insaf (PTI) Chairman Imran Khan also lamented on the loss of lives in the attack and demanded helicopter service to help rescuers save the victims of the blast.
Shocked at blast in Khuzdar, Balochistan at shrine of Shah Noorani: terrible loss of life. Govt must immed send helis to this remote area

— Imran Khan (@ImranKhanPTI) November 12, 2016
Former president Asif Ali Zardari also condemned the blast.
Former President @AAliZardari condemns blast at Dargha Shah Norani. pic.twitter.com/zKy2O6WxHJ

— PPP (@MediaCellPPP) November 12, 2016
Pakistan Peoples Party Chairman Bilawal Bhutto Zardari condemned the blast and said: "The nation should fight against terrorism unitedly."
Terrorists are targeting schools, colleges, hospitals, mosques and mausoleums, he added.
#PPP Chairman @BBhuttoZardari strongly condemns the blast at Dargha Shah Noorani in Hub.

— PPP (@MediaCellPPP) November 12, 2016
Pakistan Awami Tehreek Chairperson Dr Tahir-ul-Qadri also condemned the attack and held the rulers responsible for the tragic incident.
I strongly condemn bomb blast on Dargah #ShahNoorani. Rulers are responsible for the carnage that struck the Dargah in Hub.

— Dr Tahir-ul-Qadri (@TahirulQadri) November 12, 2016
Prime Minister (PM) Nawaz Sharif's daughter Maryam Nawaz also grieved over the loss of lives in Hub blast.
Hub blast. Very sad news. May Allah protect Pakistan. Heart goes out to the injured & the bereaved.

— Maryam Nawaz Sharif (@MaryamNSharif) November 12, 2016
Financial assistance
Prime Minister Muhammad Nawaz Sharif has announced financial assistance of Rs500,000 for each family of the deceased.
He also announced Rs200,000 for each injured in the incident.
The prime minister directed Musaddiq Malik and Miftah Iskmail to personally visit Civil hospital in Karachi and deliver the cheques.
Balochistan, which borders Iran and Afghanistan, has oil and gas resources but is afflicted by militancy, sectarian violence and a separatist insurgency.
Local militants claimed to have worked with the Islamic State group to attack a police academy in Balochistan last month, killing 61 people in the deadliest assault on a security installation in Pakistan's history.
In August, a suicide bombing at a Quetta hospital claimed by the Islamic State group and a faction of the Pakistani Taliban killed 73 people.