I am still thinking. Where should I start and what should I write? These were the exact feelings when I was sitting in the cinema hall.
What is going on? And what the heck does the director want to say or promote? I don't want to be harsh to anyone but I need to tell the truth.
The first 15 minutes we waited for something meaningful to come up. We thought maybe we are in for a treat, but it came like the Gillette Treat Blade.
All our hopes went down the drain as we sat there patiently and watched the entire movie.
Yes, I used the word entire because it was really painful to sit and watch this movie.
I wondered why the director/producer made such a film. Why this piece of work is full of discrepancies? Why is it edited so poorly?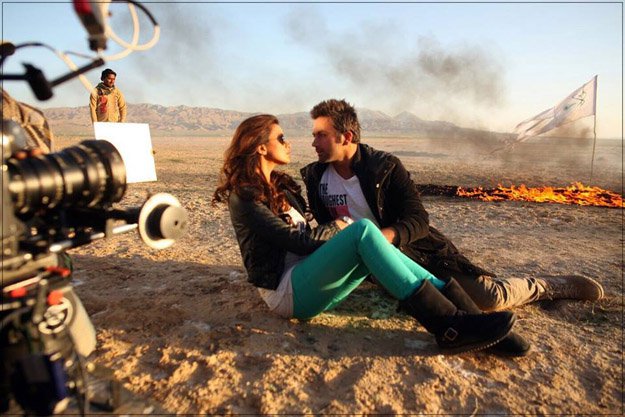 During the film I had to ask my friend 'what's going on'? One minute they were talking about a certain thing and the very next instant the whole scenario changed and a totally different scene appeared. My friend replied 'you have forgotten how to watch a Pakistani movie'.
Yes, in a way she was right. While we are watching films like Wrong No, Jawani Phir Nahi Ani, Manto and not to forget Moor, which also talked about the life of remote Baluchistan, Hijrat was utter disappointment.
Let's start from the cast. Names like Nauman Ijaz, Salma Aagha and Salman Shahid were mentioned in the promos. But we can't even see their shadow in the film. Not even in a single frame. That was another disappointment, because these are big names and very talented actors and we went to the cinema keeping them in mind.
The main lead actor was totally new. It is always good to introduce new talent, but this new talent was not a good experience to watch. The protagonist Asad Zaman (Murad) was a Pakistani version of Behlool of Ishq-e-Mamnoo (the popular Turkish drama).
Moreover, he gave the expressions of an angry young man even in romantic and sad scenes. He was trying his best, and we can see his hard work, but all was in vain.
Furthermore, Rabia Butt (Jia) a famous and a successful model is not at all acting material. At times she delivered the dialogue with a weird accent though it was in Urdu. Like Murad, her expressions didn't vary with different scenes. Yes, we surely were impressed by her chiseled jaw line which she was showing off after every 5 minutes.
Moving to the elder actors, Zaib Rehman's (murad's mother) face was so stiff with botox and fillers that no expression could be conveyed through her somewhat poker face. There was a scene in which she literary jumped and slapped her son Murad. It ought to be an intense and serious scene but the audience burst out in laughter.
Azra Aftab and Ayub Khoso are very senior and refined artists, but they didn't have the opportunity to act in the movie. They were totally wasted. Or maybe their roles were completely edited.
Also, the script had weak dialogues. There was a dialogue in which Zaib Rehman asks Jamal Shah:
"Aap ko kis ne bataya meray operation ka? Maheen ne?"
He replies:
"Nahi, woh to mujhay yahan hospital main dekh ke hairan ho gai thi. Maine ghar phone kia tha to Maheen ne tumharay operation ke bare main bataya."
I was really dumbfounded.
Likewise, there was a very serious scene in which Jia told Murad that she can't love him. Instead of convincing her to love him, Murad gave a long lecture on khuda, that khuda has made love but we humans have made boundaries.
"Hum insanoo ne lakeerain khainch di hain aur sarhadain bana daali hain".
A totally irrelevant dialogue and at a very important point. This shows that the director is trying to say that borders and boundaries are irrelevant.
Zain, Murad's friend who was supposedly a comedian, was unable to do justice with his role. He called Murad, Murali – it isn't normally a nickname used for man of Muslim and Pakistani background. During the movie I was intrigued by names like Jia (Rabia Butt), Sameer (Nadeem Baig) and Arun (Sameer's son). The riddle was solved in the end: these characters were Hindu.
The music was given by Sahir Ali Bagga, and again Mr. Bagga has proved himself. The music was really soulful. The only romantic song was melodious and filmed romantically.
The locations were supposed to be in Quetta, but we can only see a barren land where the camp was made. There were no evident locations from which we can tell that it's the Pak-Afghan border or interior Baluchistan.
Sana did the item song. Again the music was like an item song and was catchy – "chali main chili Dilli se Lahore". Sana has really worked hard – but on her looks not on the dance. No doubt she looks like an item girl, glamorous and has been spending time at the gym. The outcome would've been much better if she would have spent that time on dance rehearsals.
Hijrat has left many questions in the mind of its audience.
Who was Azra Aftab?
What was the story of this character?
Why did she always swirl in the Titanic pose?
When the pretty Afghan girl sung a Balochi song, then right after the song her baby died – why and how?
Why were the characters of Nadeem, Rabia and Nadeem's son Hindus?
From where did the dead bodies come to the camp?
Why were these men killed? Where they Afghans or Pakistanis fighting terrorists or were they terrorists fighting Afghans?
Who did the hijrat and from where?
Why was the director not clear in what he wanted to show?
Why did we watch this movie?